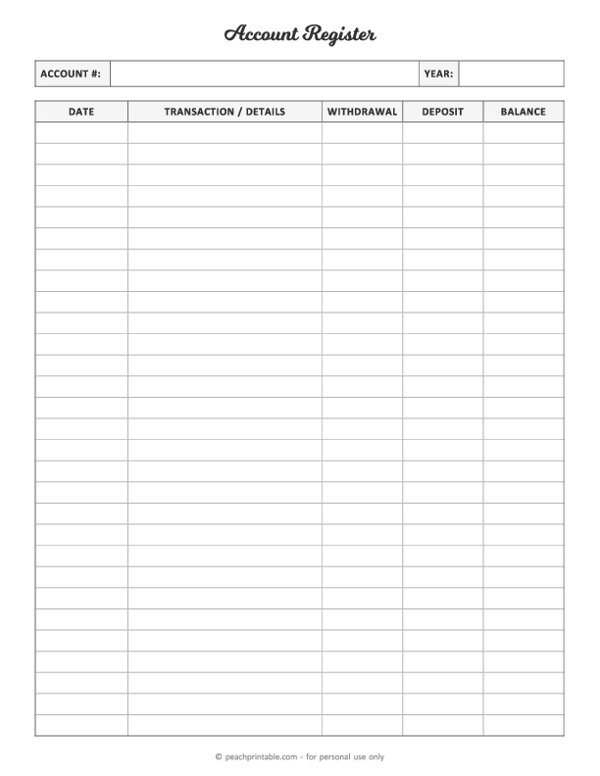 Account Register Template
8.5" x 11" - ( 216 mm x 279 mm )
Are you looking for a way to organize your finances? Make sure to download this account register template.
An account register can help you keep track of your current balance, recent transactions, and upcoming payments. Using a template like this makes it easy to update your information when necessary.
How to use Account Register Template?
This Account Register Template comes with different easy-to-fill sections.
Account #. Write your Bank Account Number for reference.
Year. Fill in the current year or the year you want to keep transaction records for.
Date. Write the date of the transaction.
Transaction / Details. This is where the transaction details will go. Make sure to note down any specifics about this transaction in case you want to refer to it later in the year, or even a few years later.
Withdrawal. The amount you wish to withdraw can be written in this section.
Deposit. Any amounts you plan to deposit can be filled here.
Balance. How much amount is left in your account once you have withdrawn or deposited any amount in your account?
Keeping a record like this makes it easy for you to keep track of your transactions and how much money you actually have in your bank account.
Being able to visually see the money coming in and out will help you stick to your budget and take control of your finances in a much more efficient way.