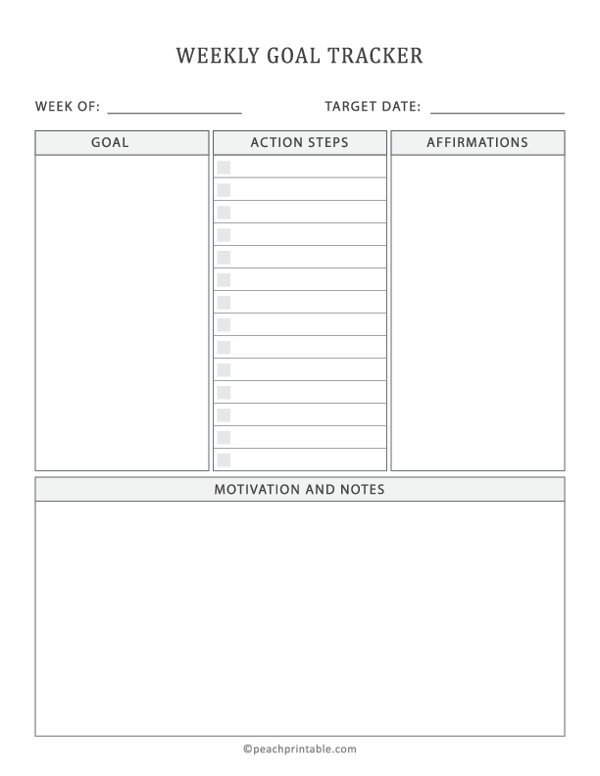 Weekly Goal Tracker
8.5" x 11" - ( 216 mm x 279 mm )
Keep track of your goals each week with this printable week goal tracker! This printable template is perfect for helping you stay on track. You can use it to list your weekly goals, track your progress, and even set rewards for yourself.
How to use Weekly Goal Tracker
You can use this weekly goal tracker to stay on track for working out, meeting project deadlines, money spending habits, learning a new skill or basically anything.
Download and print this printable weekly goal tracker. You can fill in these sections to make sure you make good use of this goal tracker every week.
Week of. Write the week you are setting your goals for. It could be one week, two weeks or more!
Target Date. What date do you want to accomplish your goals?
Goal. Write the goals in the first column.
Action Steps. What action steps you are planning to take to accomplish your goals? Check off the corresponding boxes as you complete each action step.
Affirmations. It is important to remember some positive affirmations for motivation. Make sure to write some positive messages to read every time you look at your goal tracker.
Motivation and Notes. What motivates you? Write in the last section, along with any notes.
To accomplish your goals, it is important to hold yourself accountable. Writing things down can help with that. Download this printable weekly goal tracker template and start working on your goals.