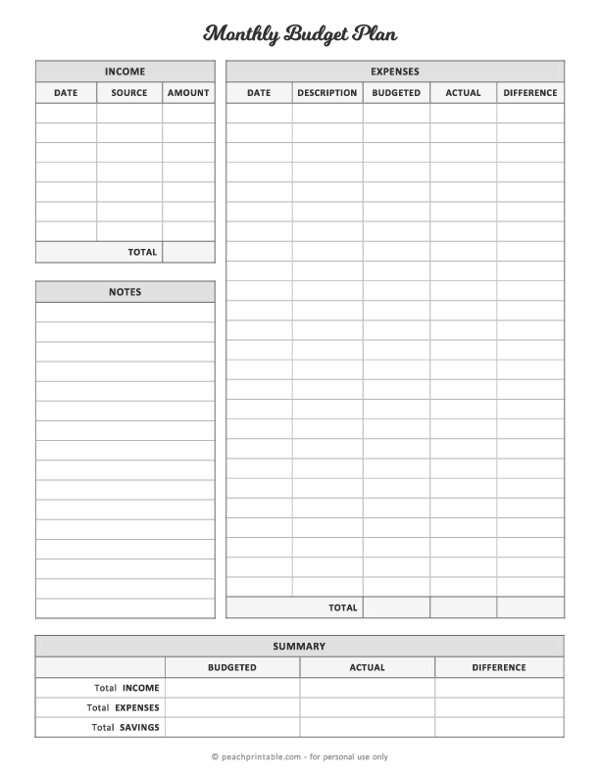 Personal Monthly Budget Plan
8.5" x 11" - ( 216 mm x 279 mm )
Download our free personal monthly budget planner spreadsheet. A budget can help you see where your money is going and how you can save more. You can create your own budget or download a printable template such as this one. With a little organization and self-control, you can make your money work for you and have your finances under control.
Printable Monthly Budget Plan
When you download this template, you will be able to organize your finances efficiently. There are sections to write your Income and Expenses.
Income: Fill in the date, income source, and the amount of income for the month. Write the total amount at the end of this section.
Expenses. Write the date, description of the particular expense, budgeted amount, actual amount, and the difference between the two. Add the amounts and write the total at the bottom of this section.
Notes. Write any additional notes about income or expenses.
Summary. This is the section where you write the total of income and expenses. Writing the budgeted and actual amount will give the difference. You will be able to find out the total savings for the month.
When you break down the total income and expenses like this, you will be able to have a better visual idea of how much you are saving, and plan your budget for every month. You will be happy to see the significant savings at the end of the year.