48 Spoke Degrees Polar Graph Paper
Free Polar Graph printable paper template. Perfect for students, designers, engineers, architects, writers, planners for handwriting, measurements, drawings and graphing.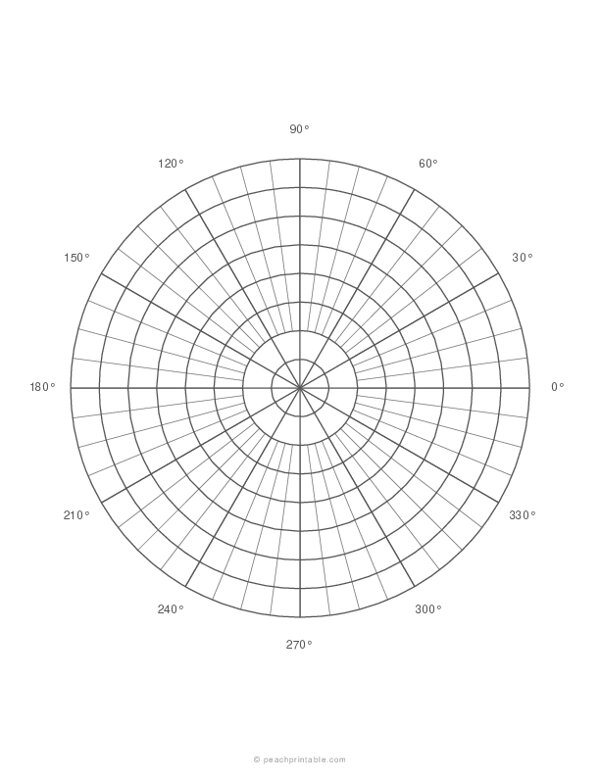 Paper Size: Letter Format: .pdf
Dimensions: 8.5" x 11" - ( 216 mm x 279 mm )
Orientation: Portrait / Vertical Color: Gray
Download free printable 48 spoke degrees polar graph paper (also known as polar coordinate paper) on Letter Size paper.
Please note that all the freebies are for personal use only and should not be distributed by any means. You cannot sell the product itself or the printouts.
Please feel free to link back to this page when sharing on website or blog posts or use the hashtag #peachprintable when sharing on instagram or other social media sites
To convert PDF files into JPG or PNG, check this online File Format Converter tool, and for unzipping the compressed zip files, try this online Unzip tool.
You may also like:
1/10 inch (0.1") grid on letter size paper in portrait orientation. Perfect for bullet journaling and more.

1" Grid Plain Graph Paper Red with Heavy Index Lines on A4

1 inch wide plain graph paper in red color with heavy index lines on A4 size in portrait layout.

1/4" Inch Grid Plain Graph Paper Red

Download free printable 1/4" inch (or 4 lines per inch) plain graph paper in red (also known as grid paper) on letter size in vertical layout. Perfect for school and college math students.